Data is an invaluable asset in today's modern society. Going beyond traditional audit services, we help organisations to analyse their financial data and information as well as provide innovative solutions for these businesses to address key issues and expand quickly.
With proper, actionable financial information, the management can make informed decisions and plan their next strategy. At NLA DFK, our team of business advisory experts are well-trained in data analytics and compliance, with extensive experience across multiple industries. We can provide detailed analysis and useful commentary of the accounts for our clients to generate valuable, actionable insights.
Our Business Advisory Services
Our highly trained and experienced business advisors can provide the following business advisory services in Singapore to corporate and individual clients:
Transactional bookkeeping
Tax planning/minimisation strategies
Financial reporting and modelling
Budget and forecasting
Growth and profitability strategies
Financial and data analysis
Strategic advice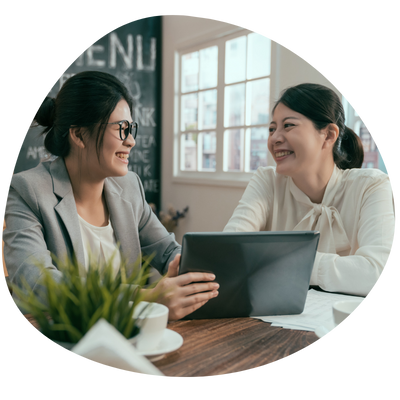 Frequently Asked Questions About Business Advisory in Singapore
1. What is the role of a business advisory consultant?
The role of a business advisory consultant is to provide value-added services to the company, which many business owners don't have the time to do, don't want to do, or can't do for themselves. Some of these services include cash flow forecasting, revenue projections, and budget reviews.
The business advisor can use his expertise to provide tailored advice and expert opinions for the company in one or more specific situations. By focussing on the relevant information, a business advisory consultant can also offer a new perspective to implement better practices and replace existing processes.
2. What are the benefits of investing in business advisory?
Objective and reliable financial advice: Business owners may have difficulty navigating their finances. This is where business advisors come in. Skilled in accounting, finance, and business, they can offer objective expert advice with investment decisions, business assurance, as well as budget and forecasting. For accounting-savvy business owners, the business advisory professional can still offer an unbiased, fresh perspective of the existing financials that is integral to the business's success.
More optimised use of resources: Business advisory services help organisations by providing vital insights that may otherwise be lost in the vast amount of numbers and data. These insights give more information about performance, position and cash flow that is useful for the company.  The company can then streamline its operations, reduce wastage, and optimise resources using these actionable analysis and insights.
Staying up-to-date: Technology is ever-evolving and firms must adapt quickly to the change. In the past, traditional accounting software was installed on personal computers and office networks, which was very prone to data loss. This data loss is caused by software corruption or backup issues.  Today, however, cloud-based accounting software keeps the data safe as well as provides greater accessibility and opportunities for collaborations. A business advisory professional can help you smoothly migrate your accounts to these newer cloud-based accounting software with minimal disruptions and effort.
3. What does business advisory consist of?
Business advisory services are value-added services that can benefit the company. These services include, but are not limited to, the following:
Tax planning/minimisation strategies –  As a business hub, there are many tax incentives available in Singapore. With careful tax planning, your company can reduce the amount of tax payable and maximise business profits. A good business advisory professional will be able to guide you on the tax process and the available tax reliefs.
Financial reporting and modelling –  Financial modeling gives the management a good representation in numbers of the company's past, present, and future operations. A good business advisory consultant can provide accurate financial information for the management to make informed business decisions.
Budget and forecasting –  Budget and forecasting are very important aspects in accounting. A business advisor is able to accurately create a budget to plan for the business's next steps and also give a forecast of where the business is actually going so that the business owner can make better management decisions.
Growth and profitability strategies – Every company is different. A business advisory consultant can recommend the appropriate growth and profitability strategies for your company. Some accounting growth strategies include expanding through profits, diversifying business operations and streamlining operations.
Financial and data analysis – With proper, actionable financial information, businesses can plan their next strategy. A business advisor can help to make sense of the company's data and information to generate valuable insights for the management to act on. This allows the business to address key issues and expand quickly.
Strategic advice – As no two businesses are exactly the same, there is no one-size fits-all solution for any business. A professional business advisor will analyse the company's financial reports and tailor the business advisory solutions accordingly to the company.