Never before have companies faced such growing pressure to be more competitive, cut costs and stay ahead of their competitors. But with these challenges comes greater opportunities to create a new vision for the future. Drive your company's performance, create a lasting impression for your clients, and future-proof your business with our management consultant services in Singapore.
At NLA DFK, our team of consultant experts are well-trained in management consulting in Singapore, with extensive experience across multiple industries. We can provide detailed analysis and useful commentary for the company's management to generate valuable, actionable insights. This is how businesses can remain one step ahead of their customers' needs as well as to build a sustainable and resilient business of the future.
Our highly trained and experienced consultants can provide the following management consulting services in Singapore to corporate clients:
Competitive analysis
Management and business planning
Corporate strategy
Financial and data analysis
Operations management
Leadership and talent
Human resources
Digitalisation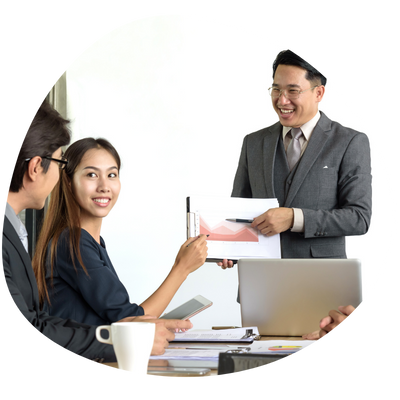 Frequently Asked Questions About Management Consulting in Singapore
1. What is management consulting?
class="wpb_wrapper">
Management consulting involves adopting the industry's best practices to improve a business's performance. More than just giving advice, management consultants will provide objective, value-added services such as key insights and actionable advice for the company's leaders. There is no one-size-fits-all method. Management consulting services need to be tailored specifically to each business.
2. What does management consulting consist of?
Leadership and talent: Employees are the heart of a company. For a business to thrive and succeed, there is a need to attract the top individuals in the market. The company cannot neglect its current employees either. A functioning business is nowhere without the selfless commitment of a group of talented and well-trained employees. It is imperative to regularly boost the employees' morale to keep them happy and productive. Following the above measures can greatly retain the best talents available and drastically reduce the recruitment costs.
Digitalisation: Without a doubt, the world of digitalisation is here with a surge of new applications and emerging technologies. There is a need to turn data into meaningful, actionable intelligence quickly and effectively. Management consultants can guide your business to do so as well as to keep innovating and delivering products that are able to meet the demands of the changing landscape.
Management and business planning: Management consultants can offer objective, expert advice on how to streamline the company's operations, reduce wastage, and optimise resources using these key actionable analysis and insights. The consultants can also advise the management on appropriate business strategies for the company. Overall, this will help the business become more efficient over a longer term.
3. How do management consulting services help my business?
Management consultants can help companies to be in control, be the best, and be the difference. A good consultant can provide new and accurate business information for the management to make more informed decisions. 
The value of the company's proposition will also be enhanced with the addition of new perspectives, implementation of key changes, attraction of new clients, as well as the retention of old clients.
Fresh new perspective that keeps the company on track: Management consultants can offer a different perspective that was never thought to be possible. Companies' operational processes are better able to work more effectively and efficiently. When faced with unexpected situations, management consultants can provide guidance to the business's leaders as well as help them to stay on course and informed to meet the changing situational demands.
Implement key changes quickly: The business climate today is extremely competitive. Companies have to quickly keep up with – and even stay ahead of— the times. Management consultants can aid a company to implement changes quickly such as digitalising their corporate functions like administrative work, payroll, as well as audit and assurance.
Stand out from the crowd and attract new clients: Management consultants can help a company to stand out, be noticed, and attract new clients. To do so, businesses must be able to deliver the ultimate experience beyond expectations to clients and create a lasting impression for them.
Retain old clients: To keep clients' happy, there is a need to remain a step ahead of their needs and to enhance their experiences so that they will always keep coming back, sale after sale. Management consultants can help businesses meet and exceed their clients' demands with unrivalled products and/or services.